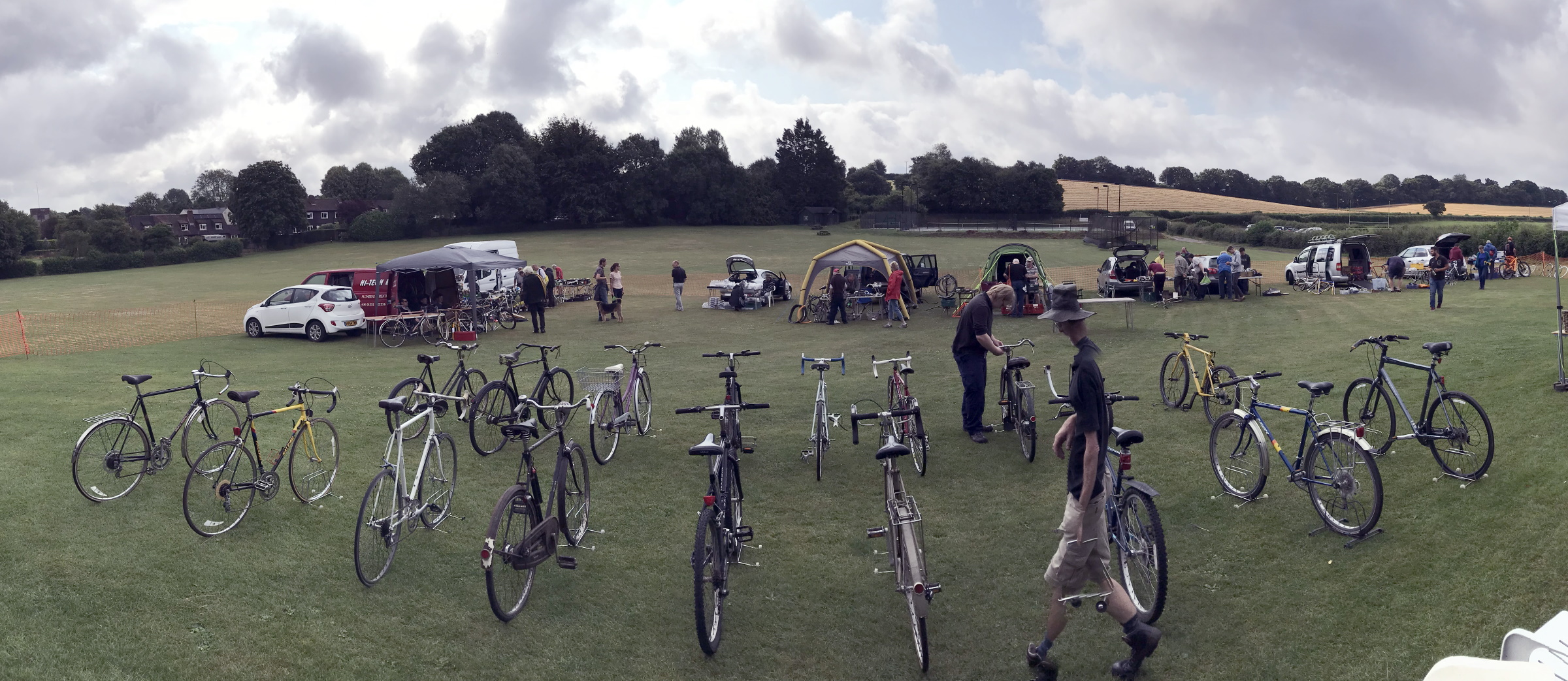 Cycle Jumble July 2019 at Cheriton Recreation Ground
Cycle Jumble
Bikes, Parts, Tools, Clothes, Memorabilia, Ephemera
Possibly a cycle auction as well.
Sellers – Doors open 08:00 – Please pack up from 12:00
Please pre-book by email to andrew@alrescycle.co.uk. Doors open for sellers at 08:00.
£5 for each bring your own table or equivalent
£10 per hired table or equivalent pitch pre-booked
£10 and £15 (if available) respectively on the day.
Buyers – Doors open at 09:00.
£1 entry for buyers
£5 for early entries.
Location
Large grassy pub car park with space for 30-50 sellers. Ample off road parking including hard standing in the adjacent recreation ground.
Refreshments will be served by the pub for the event. Expect tea, coffee and bacon rolls at least. The pub brews an excellent range of ales on the premises and is open all day. If you don't want alcohol on the day, you can get take aways in bottles, 2/4 pint plastic "milk" bottles and larger sizes. They also do a great range of food for lunch. See their web site for more details Flower Pots Inn .
Please eat and drink your own food off site. There is a lovely recreation ground across the road.
Contact
Please email andrew@alrescycle.co.uk or call 07813 211451 with questions.
Please express your interest in coming to the event by visiting the Facebook Event for this cycle jumble and pressing the Interested or Going buttons.
Directions
Cheriton is just off the A272 between Winchester and the Meon Valley. It's due south of New Alresford. From Winchester it is 10 mins from the bottom of the A34 and the M3. From Petersfield it is 20 mins along the A272. Buses go 4 times on Saturday from Petersfield and Winchester and stop in the village. Google map link  Even more detail on the Flower Pots Directions page.
Nearest cash machines are in New Alresford at Lloyds Bank and the Coop.
You can make a day of it and in the afternoon take a trip on the Watercress Line or just cycle around in the lovely countryside littered with pubs and cafes.
Kindly hosted by the Flower Pots Inn in Cheriton.
Organised by Andrew Wilcox of Alresford Mobile Cycle Repairs.